Grain Train
You'd think with our new bed that I'd be sleeping like a baby!
Unfortunately last night, I did not. It's so hard to get to sleep on Saturday nights lately. I gotta make sure I have all I need because I leave the house at 5:20 am and don't get back until 9 pm!
I really wanted to bring in my big girl camera to school, but I already had so much stuff with me and it was damn cold to be walking the streets of NYC that early.
Today ended up being a lot of work. First off, I was the class supervisor but since someone couldn't come in because they were sick, I ALSO had to take her job as a steward. Prepping our ingredients and making sure we had everything.
Today we practiced cooking grains! All kinds of them . . .
Kasha
Bulgur
Long Grain Brown Rice
Short Grain Brown Rice
Long Grain Brown Basmati Rice
Cous-Cous
Wild Rice
Udon Noodles
The basmati rice was a baked rice recipe. It was toasted in coconut oil then mixed with cinnamon, clove and cardamom for a nice warm flavor.
Unfortunately, it was also the dish that I received this beauty.
I some how touched my hand on the inside of the stove. It was stinging for a while. I kept dunking in ice water and then put some burn gel on it.
And just when I thought I was over it, the side of my arm touched the long handle on the pan on that very same dish.
I'm ok with a few battle scars though, as long as it doesn't happen often or scar too bad.
Our groups were also in charge of making a dish with all of the grains. Our grou made tabouleh.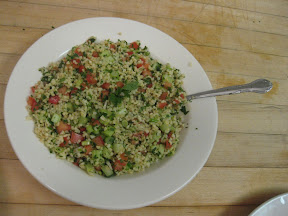 The other classmates made Kasha loaf, udon stir-fry and a wild rice salad that was amazing.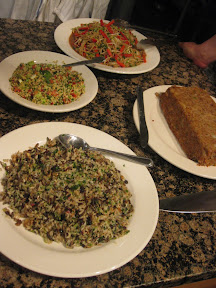 After we broke for lunch, we had a bean demo with some more great dishes. A few that I plan on making very soon so stay tuned!
We were able to make it out early after hustling to clean everything up. That extra hour is going to be spent staring at a wall before passing out.
Sounds good to me!
Have you ever made a dish with an interesting grain that you normally wouldn't think of using?

You May Also Enjoy:
6 Responses to Grain Train