If Balancing Val was a desk, right now it would be completely covered with random piles of paper that are disheveled and out of order. Those who know me understand how bad this infuriates me! This of course represents the many many things that are going unshared here. Recipes, random insight, giveaways, photography etc.
The good thing is that I'm pretty damn good at cleaning and organizing things like this. The bad thing is that it's only when I have the time to do so.
I wish I can fully focus on my developing projects, this blog being one of them. But right now I must embrace what the blog is about by trying to keep balance with all that I'm committed to.
So, I must appreciate the snippets of my life that actually do go up here and praise the rare spurts of posts that flow frequently and purposefully.
Besides, there will be time one day . . . And hopefully sooner than I think!
- – -
Today I made a decision to be a bit more 'in action' about things that are important. I woke up at 6am to power walk along the shore with Mom about 2 miles.
Afterwards, we had a nice breakfast out and I then completed all my errands before getting ready to head to the city.
No, it's not a school day but I'm getting some of my stewarding hours in by helping one of my favorite chefs here prep for tomorrow nights Friday Night Dinner.
I decided that while the weather is warm, I want to head in early on Tuesdays and spend a little bit of money on some sort of culinary treat. I love experiencing the food this city and it makes sense to me!
Today, I stopped at Pinkberry. I am becoming a big fan of frozen yogurt and I really wanted to see what the hype was all about.
I ordered a mini cup of pomegranate topped with the best organic gummy bears ever!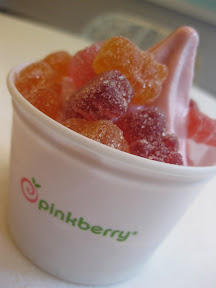 At first when I tasted it I just thought . . . Ok all this tastes like is yogurt that's frozen. Well duh! That's what frozen yogurt is supposed to taste like!
It was really refreshing and I enjoyed every bite.
Now I'm about to suit up to cook!
Ps – the winner of the Body Balance giveaway chosen at random is Judy Z. Please email me your address to Val@balancingval.com by the end of Saturday.
Thanks to all who participated in my first giveaway. I look forward to the next one!
Would you believe I have 9 out of 15 days left before I can claim a glorious day off?  I must admit that I'm exhausted, but I have felt an incredible shift of positive energy in the last few days.  I'm finally back to trusting myself and my passion for the future!  With that I am bursting with ideas and opportunities and I just feel so ready to fly!
I do have to hang in there a bit longer so I can work through some fears and also because of finances, but the time will be here soon and I must trust that.
With that said, I really want to be able to share more of my life and what I am doing with more people and to do that, I had to sell my soul to the devil and not for a doughnut.  This of course means that I have joined the realm of Facebook.
If you know me in real life, you know that I have avoided Facebook like the plague (serious). Its not that I don't want to connect with people that I want to be in my life, its that I never wanted to deal with the crap of those people that really don't matter.  I never wanted the hours glued to the screen, the stalking, the comparing myself to others . . . THE DRAMA!
But I have realized in my 10 months of blogging that Facebook is here to stay and it will help me immensely to share my message.  So, to compromise I have created a Facebook page for Balancing Val and . . .
I need you to Like Me!
I realize this is an annoying request, so I decided it would only be fair if I presented you with my very first giveaway!  And this is a GOOD one . . . I promise.
If you remember back a month ago, I was sharing with you a new health product I was testing out called Body Balance (read that post HERE).  In short, it is a tasty drink mix of the trace minerals that are lacking from our diets due to over farming and chemical destruction of our soil. 
It's a damn shame because those very minerals are the ones that our body uses to carry out SO many processes and when we DON'T get them, our bodies crave them by wanting more sweets, caffeine, alcohol, giving us headaches, making us fatigued and tired just to name a few.
I am happy to report that I have been taking Body Balance for over a month and it has seriously done wonders for me.  My energy levels have skyrocketed which has allowed me to work harder and smarter.  My hair skin and nails have completely improved and my overall mood is just so much better.  (ask Chris!)
I know I sound like an advertisement, but if you read my last post about it you know that I don't take any health claims or supplements lightly . . . I'm a true skeptic!
"Get to the point, Val!"
Ok so I want to giveaway an entire weeks worth of Body Balance packets (from my personal stash) to my one of my lovely readers to try it for themselves.
All you have to do is Like me on Facebook and you will be entered to win!  If you already like me there, you are already entered and those of you who don't have Facebook (I totally get it!) can just leave a comment on this post if they would like to be entered.
I will be randomly choosing a winner on Saturday May 21st.  Open to US residents only.
Good Luck and Thank You!
PS- If you would like more information on Body Balance or want to try it, email me val@balancingval.com