Yesterday was a weird day for me . . . I felt out of sorts and sorts of out . . .
In the morning I went to a work meeting which is a rare thing on a Tuesday.  It ran a little late and I rushed out of there to make sure I had time to get ready for school . . .
I literally had a train to catch!
I grabbed all of my things and started driving.  Then it hit me . . . I was an hour early!!  I'm not sure what or why I got the timing wrong . . . its very unlike me to do something like that. 
Luckily Chris works up by the train station.  I got to spend a good 45 min with him while he was on his break.  And by him I mean Angry Birds . . .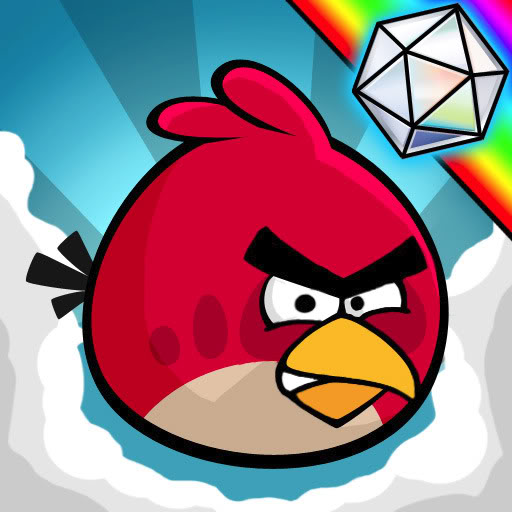 During my "sick week"  I went app searching for something that would keep me busy AND not make me think so much.  I kept seeing this game always at the top of the most popular app list so I decided to give it a shot.
Now we are addicted . . . .  It could be worse though!
When I finally made it to school, I hung around a bit until it was time for class.  5 minutes after class started, our teacher wasn't there.  Very strange since I saw her when I walked in.  10 – 15min went by and nobody could reach her!  It was very unlike her as she is very professional and told us how excited she was to teach this particular class.
Class ended up being cancelled!!
Normally, I would be angry (birds) that I came all the way there for nothing, but the school has offered to reimburse all travel costs for everyone which helps big time. We all really hope that Chef Celine is ok!!
I wasn't going to leave right away though, there was rush hour crowds and I just had commuted 2 hours to get there.
Solution . . .
Our table asked around to see if anyone wanted to come out for a drink and it ended up being the four of us that went . . .
Jess, Sam, Me and Ali
We talked a lot about the city, business ventures and of course . . . FOOD! A year ago, I couldn't even dream that I would be making new like minded friends in a different state and here I am
  It also helped that my beer was REALLY good!  It was Peak organic pale ale or something?  I spent $14 on 2 of them.  I know I shouldn't be spending money at all this month but I have to say . . . it was totally worth it!!
After about 2 hours I left to catch a train home and made it back in time for a sheet of ice that covered all of the ground and my car.  I drove home VERY slow and ended up home close to the time I would if I had had a full class that night!!  Safety First!
Today was a half day at work which was a nice break from a usual Wednesday.  I just cleaned a lot of the house . . . now I'm working on blogging and dinner!
Have you ever played Angry Birds before?
Tuesday was my very first day of chefs training at The Natural Gourmet Institute. I could hardly believe the day was finally here!
Everyone knew about it in the months (and years) leading up to it. And as it came closer, my family, people from work and my friends all gave me well wishes and always said "oh, you'll be fiiiine . . ." when I stressed my fears and nervousness.
I remember telling a lot of them that I couldn't wait to get the first day over with. Just so I could ease all of the craziness and know what I'm in for . . the suspense was killing me.
Then I thought to myself that morning about why I would want to rush through the day? It made no sense. I was looking forward to this wasn't I? Did I really want to go and only remember the tense "omg what if this and that happens?" feeling and not appreciate what was going on in front of me?
So, decided to try something new. Something that I never have done before.
I Replaced Fear With Love & Excitement.
I admit, I had to fake it at first but after a short while things seemed more light and refreshing. . . .
Like a very strange but satisfying breakfast. (swamp shake and an avocado sandwich)
The beauty in a fall November day with
the bag
at the train station.
The newness and confusion of the subway. Which I rode all by myself AND in the right direction!
Finally getting my official jackets to go with
the pants
.
A nice lunch/dinner alone in an adorable Thai restaurant where I indulged myself in a Roti wrap with slow cooked Thai beef and an order of yucca fries.
And when it was finally time to walk through the doors . . . I was truly excited about this step in my life. I was amazed at the diverse group of us who all had different goals and will be working together and hopefully becoming friends. Or how welcoming and funny the staff was. I truly believe they want the best for us and are willing to help us with whatever we need.
This school is one of a kind. And I am so LUCKY that I am able to do this! Not many people get to really follow their passion and be as close to a place that will help carry it out.
Turning fear into love was the best possible decision I could have made today. I think we all should do that every day.
The choice truly is your own . . .
Here is to an amazing year and the start of a new journey!
-