Yesterday was bone chilling cold.  I thought the days of wearing gloves and not being able to feel my feet were over but I thought wrong . . . it was a tough walk to school yesterday.
Good news is, it ended up being a perfect day for a soup feast!
Class was all about the soups and stews.  There were about 12 recipes to make and 12 of us so we each got to make something.
I was responsible for the Borscht.  Now, I love me some beets but for some reason, Borscht doesn't jive well with me.  It is pretty though . . .
I also made some Tofu Sour Cream to dollop on top.
It helped, but it still tasted like a bowl of earthy dirt to me. 
Everything else was amazing too.  We had mushroom ragout, lemony lentil soup, sesame broth soup, onion soup, hearty vegetable stew, potato and watercress soup just to name a few.
I have the recipes for all and I plan on making some of them.
Soups are great because they have a lot of nutrients that leech out from vegetables or meats.  They also freeze very well and don't cost a lot to make huge portions.
I took home some onion soup with mushroom ragout and a bit of vegetable cassolet (vegetable casserole) topped with mushroom barley soup.
Made an excellent lunch topped with yesterdays sausage crumbles and spicy chickpea snack.
See those big purple things?  Fava Beans . . . first time for everything
I still have enough leftovers for ~ 2 meals!!
I have a big post in the works about my new way of eating that I cant wait to share. So stay tuned!
What is your favorite soup or stew?
Today I had a great day at school!
Our classes were varied, we had 2 breaks in which I had lunch and tea with friends and we got a lot accomplished.
After having a knife review, we took a quiz. Chris helped me study last night and I did some early studying at Starbucks this AM so I'm pretty sure I did well.
We had a good 40min break after the quiz as everyone finished early. Me and some of the girls went and got tea at a local pastry shop. It was the first time I had Mighty Leaf. I had a mint flavor which was very good.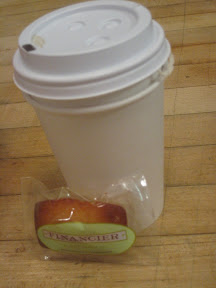 I especially liked it because with each cup they give you an adorable little pound cake which was moist and had a nice almond flavor.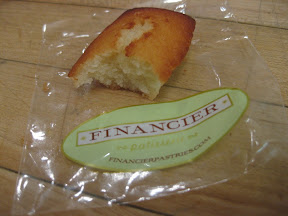 After that we had a class on quality ingredients. The topic this time was sugar and salt. I learned a lot more about refined sugar especially the fact that there is no physical need for the body to have it! I also have a list of 78 ways sugar can harm your body that I'm going to bring into work.
Yes . . . I realize I have a picture of a pound cake before that paragraph 😛
Next we broke for lunch. One of the girls took us to the limelight market which is in an old church. It's filled with cute little (expensive) shops that make me wish I had endless amounts of money. We went to a place for sandwiches that looked awesome, but were wicked expensive.
I split the sandwich with Samantha! Shes vegetarian so we got a sandwich that had hummus, cucumber, tomato,feta and a nice bean salad on ciabatta bread. It was very tasty and it got me thinking that about how convenient sandwiches are and how I gotta start making healthy ones like these for myself on my "travel" days.
Then it was right to work on our grains. Now that we know how to cook basic grains, today was all about turning them into recipes. The class made . . .
Polenta cakes – broiled and fried
Millet Croquettes – broiled and fried
Asparagus Risotto – in a pressure cooker
. . . And a stew from Argentina that I can't remember the name of.
Here's some of our creations. hi Sam!
I was in charge of the broiled polenta cakes. The cooking was good but the flavoring was bad. The recipe called for white pepper and honestly it had an after taste of like lipstick or something. I wasn't the only one who agreed about this so I'm not crazy . . . At least about this.
When we were all done, we sat down to a nice dinner with a home made cranberry lemonade type drink.
Like I said . . . Very accomplishing day. At the train station, I was really craving a soda. I waited a while to make sure it was coming from my body as the last thing I wanted to do after the class about sugar was have it in its worst form but it kept nagging me. I think it was my body craving out for energy or hydration.
I decided to go with it and bought myself a REAL coke.
I drank half and it really hit the spot. I'm putting the rest in the fridge but hopefully I wont want it.
I got a busy week coming up. I gotta go into the city 3 times this week all for school so I gotta make sure I rest up!
How did your week turn out overall?